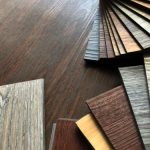 When it comes to choosing flooring options for your home, the choices can seem overwhelming. From hardwood to carpet, there are many different materials to consider. One option that has been gaining popularity in recent years is luxury vinyl flooring. While vinyl may conjure up images of the outdated linoleum of the past, luxury vinyl flooring is a modern and stylish choice that offers many benefits. In this blog post, we will explore five of the main advantages of installing luxury vinyl flooring in your home.
1. Durability and Longevity
One of the top benefits of luxury vinyl flooring is its exceptional durability. Unlike other flooring options that may easily scratch or dent, luxury vinyl flooring is designed to withstand heavy foot traffic and daily wear and tear. It is constructed with multiple layers, which make it more resistant to scratches, stains, and water damage. This durability ensures that your flooring will look beautiful for years to come, even in high-traffic areas such as entryways and living rooms.
2. Versatility in Design
Another advantage of luxury vinyl flooring is its versatility in design. Gone are the days of limited options and outdated patterns. Today's luxury vinyl comes in a wide array of designs, colors, and textures. Whether you prefer the classic look of hardwood or the trendy appeal of tile, you can find luxury vinyl flooring that mimics the natural beauty of these materials. This allows you to achieve the aesthetic you desire at a fraction of the cost.
3. Easy Maintenance
Keeping your flooring clean and well-maintained is essential for any homeowner. Luxury vinyl flooring makes this task a breeze. Its smooth surface is resistant to stains and spills, making it easy to wipe up any messes without leaving a lasting mark. Additionally, luxury vinyl flooring is water-resistant, making it an excellent choice for kitchens, bathrooms, and other areas prone to moisture. Regular sweeping and occasional mopping are all that is needed to keep your luxury vinyl floors looking their best.
4. Comfort and Noise Reduction
One of the notable advantages of luxury vinyl flooring is its cushioned underlayer, which provides a soft and comfortable feel underfoot. This can be especially beneficial for those with joint or muscle pain, as it offers a more forgiving surface compared to harder flooring options such as tile or hardwood. The added cushioning also helps reduce noise transmission, making luxury vinyl flooring a popular choice for multi-story homes or apartments.
5. Affordability
Finally, luxury vinyl flooring is an affordable option for homeowners looking to upgrade their flooring without breaking the bank. Compared to high-end materials like hardwood or ceramic tile, luxury vinyl flooring offers a similar look and quality at a fraction of the cost. This makes it a cost-effective choice for those on a budget or those who want to save money without compromising on style and durability.
Conclusion
Luxury vinyl flooring offers several benefits that make it a worthy investment for homeowners. Its durability, versatility in design, easy maintenance, comfort, noise reduction, and affordability are all reasons to consider luxury vinyl flooring when updating your home's interior. Whether you're replacing old flooring or installing new, luxury vinyl offers a modern and stylish look that can transform any room. So why not give luxury vinyl flooring a try and see for yourself the numerous advantages it has to offer?
Got Questions? Let Us Help!
Welcome to All American Carpet Inc! We are a locally-owned and operated business serving the Bakersfield area since 1993. Come see our complete line of products including the hottest category in flooring today, Waterproof Vinyl Plank! Featuring all major industry brands like Core-Tec, Shaw, Paradigm, and Mohawk, you are sure to find a unique floor that's perfect for your home. At All American Carpet, we don't just specialize in residential remodels. We also offer a full line of commercial and property management products to suit your business needs whether it be carpet tile, broadloom, luxury vinyl plank, or tile we have the right high-performance solution for you. Contact us or visit our showroom today!
Categorised in: Luxury Vinyl Flooring