About Free Rein Art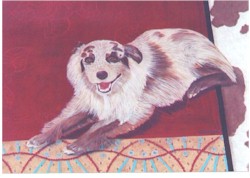 As a child, I drew on everything from my bed sheets and walls in my room to tattoos on my friends, so it is fitting that I
now create my art on something functional as well as  traditional canvases."
Early in her interior design career, Angie discovered floorcloths, hand-painted canvas rugs.  From there the ball started rolling and she created a business that has grown into a 20 year career in art and design.
Angie's work has evolved from traditional floorcloth designs to original works of art inspired by her love of the American west and her rural southern roots.
For two decades, Angie has designed and executed commissions and limited edition floorcloths for individuals, mail order catalogs, design firms, furniture stores and manufacturer's showrooms across the country. Clients have included Your Exceptional Home, The Old Wagon Factory, LL Bean, Lexington Home Brands and Slifer Design.    
Her canvases are cherished for not only the time spent on
craftsmanship
, but for her unique designs of a rug on rug look that has become Angie's signature style. Her innovative use of hand cut and rolled leather rug fringe and conchos sets her work apart from the run of the mill.
Angie introduces several standard limited edition designs per year but mostly works on commissioned orders. Each floorcloth is made to her client's specifications including size and color way.
"Original art, whether fine art or craft will become an heirloom, not because of it's monetary value, but because it was created from someone's heart and soul and has touched another's." Angie Nelson
---
---